Family & Divorce Lawyer in St. Louis & Kansas City, Missouri
Our office is ready to help with your family law matter.
Haefner Law Office, LLC is a boutique St. Louis & Kansas City family law firm concentrating on practice exclusively in the areas of family and divorce law.
We are the first in the area to develop the Flat Rate Pricing system, allowing for effective representation in the most cost-efficient manner possible.
At Haefner Law Office, LLC we pride ourselves on handling cases efficiently and with discretion, minimizing the costs and disruption to your life. We make sure you understand the law, know all of your options, and help you make the best choices for you and your family. Having the right attorney representing you will make an immediate difference in your life, as well as your life after the case is over.
Emphasizing comprehensive, compassionate, and cutting-edge service, our family law attorneys offer expertise in:
Uncontested Divorce

Contested Divorce

Paternity

Child custody and support

Professional trial advocacy

Negotiation
Prenuptial agreements

Spousal maintenance

Property division

Modifications

Enforcement

Wills & POA
Sensitivity To The Legal Issues Of Families
Our uniquely focused practice and years of combined experience in all aspects of Missouri family law ensure we have the skill and capacity to provide the best service for our clients' needs.
We have significant experience handling all types of cases and are skilled at protecting our clients' property, assets, and interests upon divorce, with a special emphasis on the parenting plan for families with children.

Representing individuals in complex cases requires a sophisticated understanding and in-depth knowledge of the law.
At Haefner Law Office, LLC we pride ourselves on high quality work and achieving positive and highly satisfactory results for our clients.
Our skilled family law attorneys are fully committed to offering each of our clients:
Personal attention

Prompt responses to individual needs and inquiries

Thorough and clearly stated explanations of your options

Creative solutions to difficult and complex problems

An extensive menu of legal processes, including litigation, negotiation, and mediation, all at Flat Rate Pricing that works with most budgets.
Any legal issue may be fraught with tension, especially divorce and other family law issues, but even divorce does not need to be emotionally devastating. A family law attorney from our firm can help individuals navigate complex and delicate matters, always working to minimize stress and strain on families.
In certain select situations, mediation may be the right answer to resolve issues to everyone's advantage.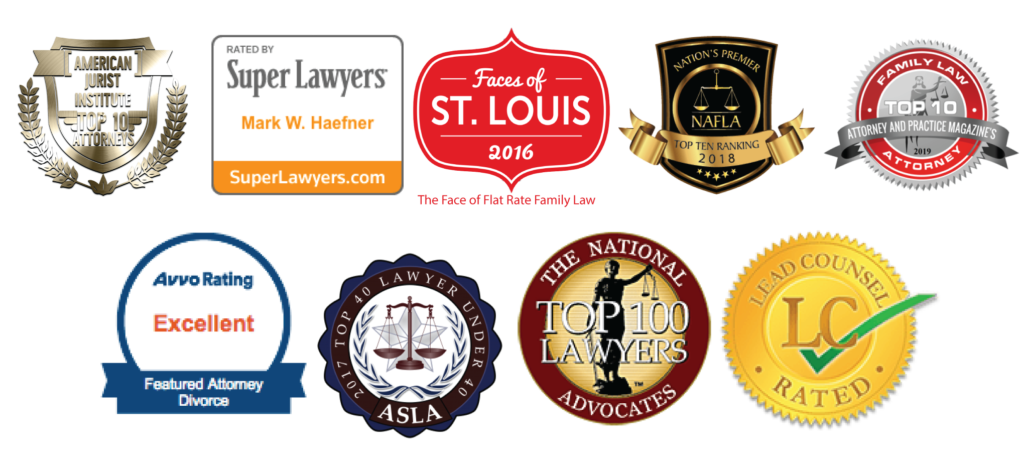 Contact an Experienced, Dedicated Family Law Attorney Today
As a dedicated family law practice, we establish close working relationships with our clients, resulting in strong and effective representation that is characterized by humanity, caring, and understanding.
If you find yourself facing divorce or other family law issues, please contact Haefner Law Office, LLC at (314) 200-6101 to schedule an appointment with an experienced attorney.
Save
Save